Bed Manufacturer of the Year
Jay-Be
Aiming for global growth and demonstrating the extent of its ambition on many fronts, Jay-Be has seen its customer base expand greatly, alongside two Which? Best Buy accolades.
The Yorkshire-based manufacturer's product development focuses on sustainability with the use of recycled materials and more recyclable designs. Judges were impressed by Jay-Be's innovative approaches, such as the use of 3D printing and computer robots to produce exciting new concepts, efficiencies and improved customer service. Clutching a fistful of certifications, the company is now reaching out aggressively on the export side, initially to the USA, Canada and New Zealand and Europe.
Harrison Spinks
Renowned for its vertical integration, Harrison Spinks continues to invest and innovate in sustainable processes and products focused on more sustainable natural materials, including wool, hemp and flax, an alternative to cotton. Bespoke ranges for key customers are growing, with new price points broadening the company's appeal and its move to a four-day working week has proved a huge success, improving productivity while making energy savings and reducing carbon footprint. 
Hypnos
Hypnos continues to build on its ethos of 'People, Planet, Profit' and has made progress on all fronts in the past 12 months. Better staff facilities, investment in training and developing the next generation through duplicate roles have helped improve staff retention, satisfaction and productivity.  Meanwhile it has broadened its product range appeal, reduced lead times significantly, focused on improving the customer journey, developed a whole menu of exciting new, plant-based textiles and built on an already impressive list of sustainability certifications.
Sealy UK
From threat of closure less than three years ago, Sealy UK's bounce back continues strongly. Investment by its new owners has seen a transformation of the factory operations, and a return to Sealy's core values, price points and points of difference in terms of its proprietary product features – all of which have been well received by an increasing customer base. Average selling prices have increased by more than 50%. Sustainability values and customer support and investment in people all get equal attention.
The judges were Richard De Melim (Furnishing Report), David Fitzsimons (Oakdene Hollins and European Manufacturing Council) and Jonathan Hindle (Chairman of the British Furniture Confederation, MD & President of KI Europe).
Component Supplier of the Year
The Vita Group
Taking responsibility is at the heart of The Vita Group's approach and it is proud of its initiatives to measure and reduce its environmental impact – such as the Orbis range, using polyols from used foam; or its Lifecycle Analysis tool, measuring the environmental impact of its products. Vita aims to look after its customers and its people in equal measure, with customer contact across many departments and a new engagement manager role focusing on staff welfare.
John Cotton Nonwovens
More than just a supplier, John Cotton fully understands that, as market leaders, they have an added responsibility to rise to the challenges of the day in partnership with their customers. In the past year, they have invested in new textile cleaning methodology to enable further reuse of recycled textile materials and are introducing a new carbon negative polyester option to help customers with their scope 3 emissions targets. Their UKAS-accredited testing lab has expanded capacity and added performance tests to its services.
Spinks
Spinks has responded to the challenges of the last year with a significant re-engineering of its production facilities in order to reduce energy bills. Its engineering skills have also been put to full use in developing a new product launch designed to meet specific customers' needs: Multi-Zone, provide variable support zones within a single spring unit. Its Cradle to CradleTM certification is just one of many new and additional sustainability initiatives the company is embracing.
The judges were Paul Farley (Furniture News), David Fitzsimons and Jonathan Hindle.
Sleepeezee – Centurial collection
The coveted Bed Product of the Year was awarded to Sleepeezee for the 03 model from its new Centurial collection, a celebratory launch ahead of Sleepeezee's 100-year birthday. Centurial has a sumptuous pillow top and is made with the finest 100% natural fillings, including Talalay latex from rubber trees. The trees help to convert over 90 million tons of CO2 into oxygen, making this filling not only extremely comfortable and supportive but also planet-friendly, as well as the mattress being 100% recyclable at the end of life.
Highly Commended: Sealy UK – Posturepedic Exquisite Indulgence
The new RestSupport® coils within the Posturepedic Exquisite Indulgence Plush mattress work in three stages; they engage with the body's contours to provide pressure relief and maintain the body's natural alignment and are enriched with Titanium for maximum strength and durability, as well as being fully recyclable at end of life. The judges highly commended the mattress with its integrated technology and proven components that produce a bed that looks and feels superb. 
Komfi – KomfiMed
KomfiMed's specialised TrueGel layer offers exceptional temperature regulation properties, dissipating excess heat and maintaining a cool and comfortable sleeping surface. KomfiMed mattresses are vacuum packed enabling 'take home today' or easily deliver to customers' homes. The mattress contains 100% recyclable foam and feature a removable and washable soft knitted cover with different tensions easily identifiable in-store by varied colour piping.
Millbrook Beds – Opulent Supreme 5000
Opulent Supreme 5000 incorporates Millbrook's innovative inner tuft technology within the iconic style of its traditional mattresses. The mattress incorporates layers of exclusive Active Hampshire Wool and the unique crimp improves its bulk and resilience by up to 34%. Exclusive SmoothFlex four-way stretch chemical-free ticking creates the ultimate sleeping surface, and the new ultra-edge technology, ensures there is no roll off.
The judges were Steve Adams (Mattress Online), Sue Davies (Sue Davies Design Solutions), James Dunne (Prestige Beds), Paul Farley (Furniture News) and Becca Maloy (AIS).
Component Product of the Year
John Cotton Nonwovens – ECO₂Blend
A carbon-negative polyester binder fibre, ECO₂Blend is manufactured from recycled PET and biowaste gases and has been carefully engineered to reduce its environmental impact by delivering a negative carbon output and a lowered carbon footprint, as well as being 100% recyclable at the end of life.
The judges commended the innovative approach to developing the fibre as a huge step forward, coupled with the ambitions to extend the fibre across a wider range of polyesters without compromising on performance or adversely impacting affordability.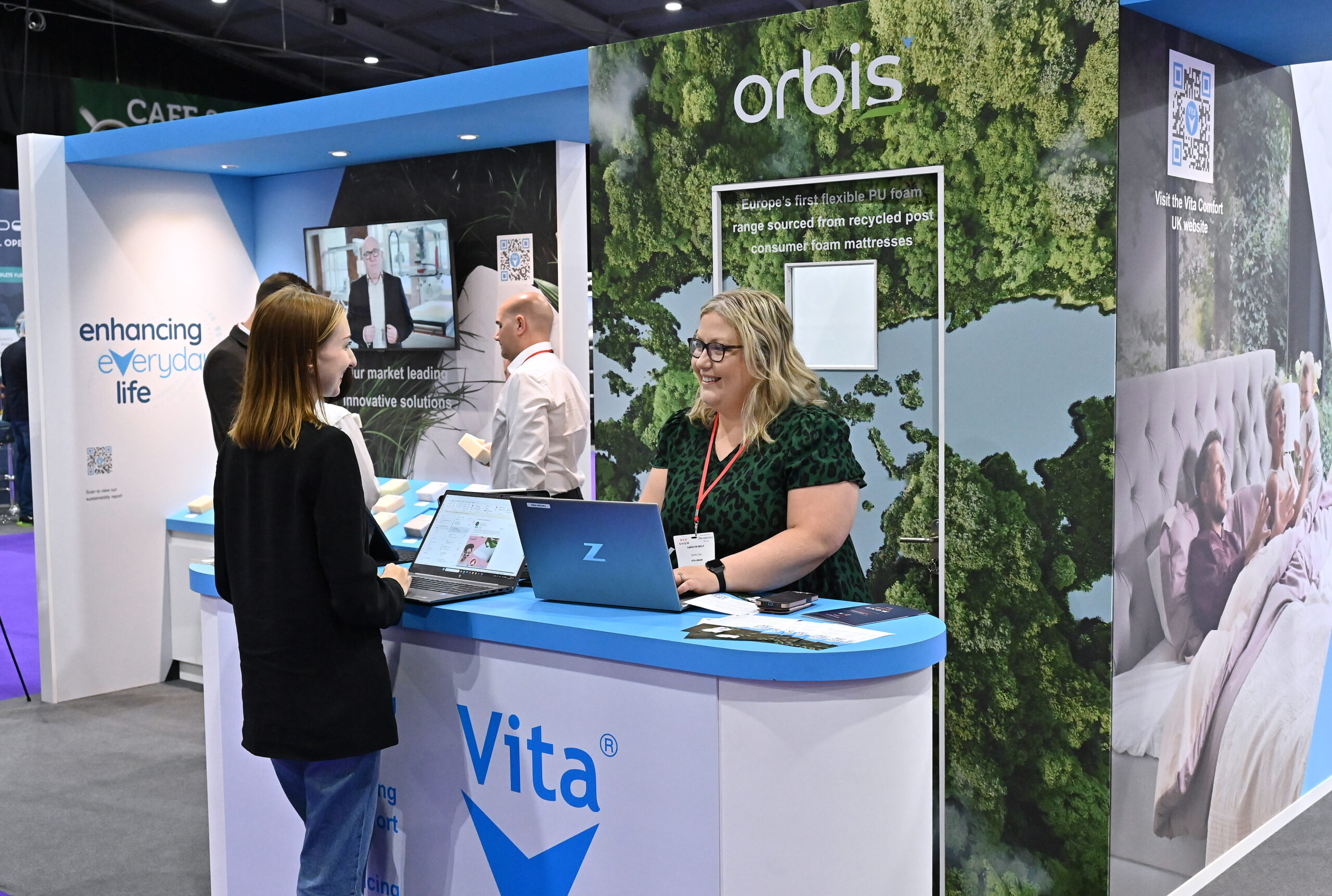 Highly Commended: The Vita Group – Orbis™
The Vita Group's Orbis™ flexible polyurethane (PU) foam was 'highly commended' by the judges. Orbis™ is a truly circular solution, manufactured from 20% recycled polyols and derived from post-consumer waste mattresses, with substantiations for every claim. Vita has partnered with Dow in the RENUVA™ Mattress Recycling Program, which has enabled the production of flexible PU foams made with RENUVA™ polyols – a raw material sourced from up to 200,000 recycled mattresses a year. 
BekaertDeslee – recycled polyester from textile waste
BekaertDeslee's ERP system enables them to sort waste from production, creating clean waste streams of white and coloured polyester. The waste is recycled into new yarns through mechanical recycling, which produces a virgin-quality polyester. These yarns contribute to the circular economy in the textile industry, prevent the creation of landfills and textile incineration, and have a lower carbon footprint compared to virgin polyester yarns, which are oil-based.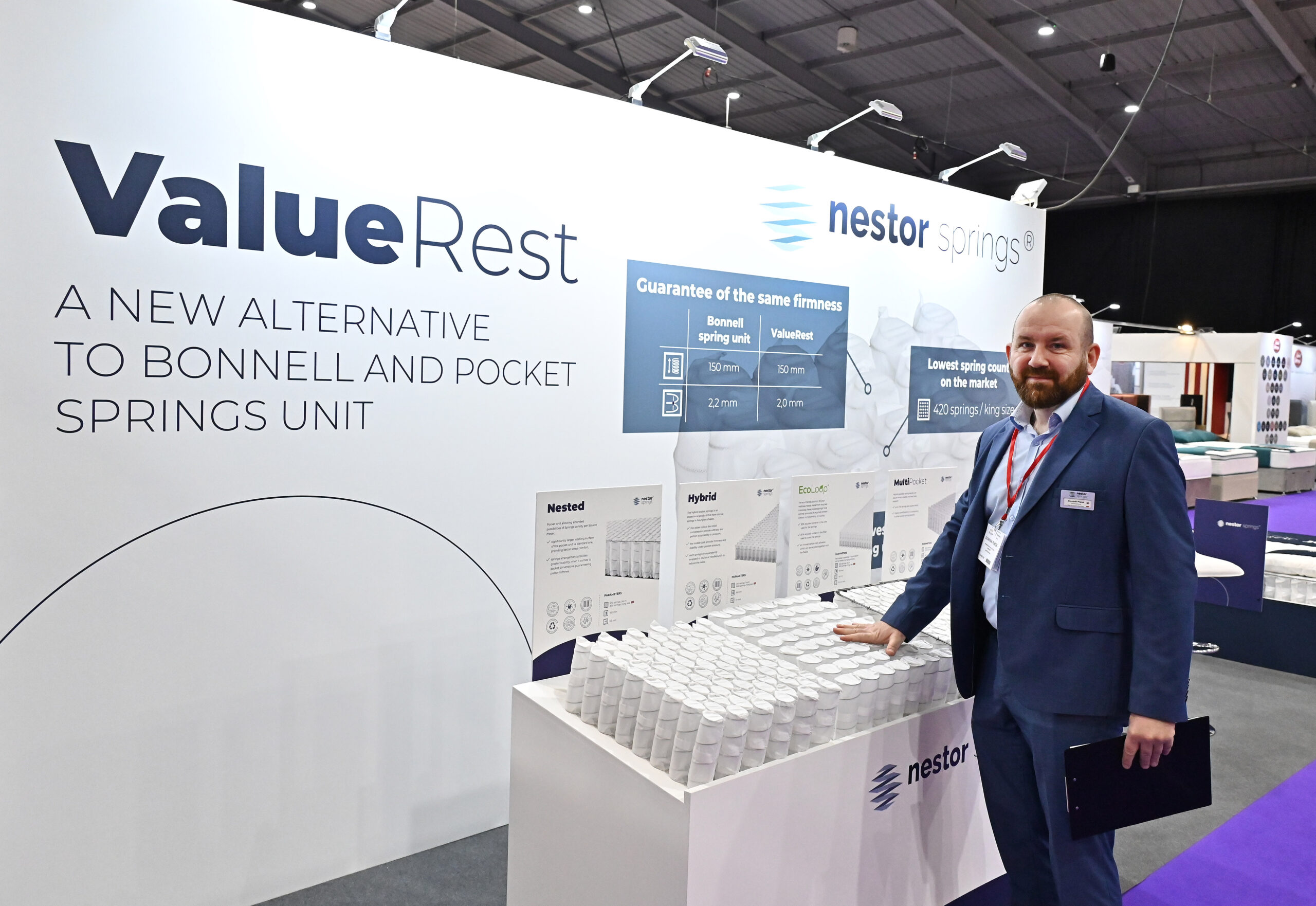 Nestor Springs – Harmony Technology
Each spring that uses Harmony Technology is placed in a separate pocket made of non-woven fabric, which is joined together with high-strength glue. Each spring works smoothly and independently, without causing the effect of stretching the surrounding springs. The Harmony technology can produce pieces in any configuration of wires, zones and materials; this unique combination of springs ensures durability and an extended lifespan.
Spinks –
Micro3D+™
The combination of microcoils and a 3D Spacer knit represents a significant leap in innovation for Spinks. Micro3D+ combines only two materials – polyester and steel – which are 100% recyclable and highly breathable, in a modular construction that revolutionises the way mattresses and toppers can be sustainably manufactured, bringing exceptional value to users.
The judges were Natalie Armstrong (Sealy UK), Danny Blackmore (Silentnight) and Dave Morris (Sleepeezee).
NBF Member Sales Agent/Rep of the Year Award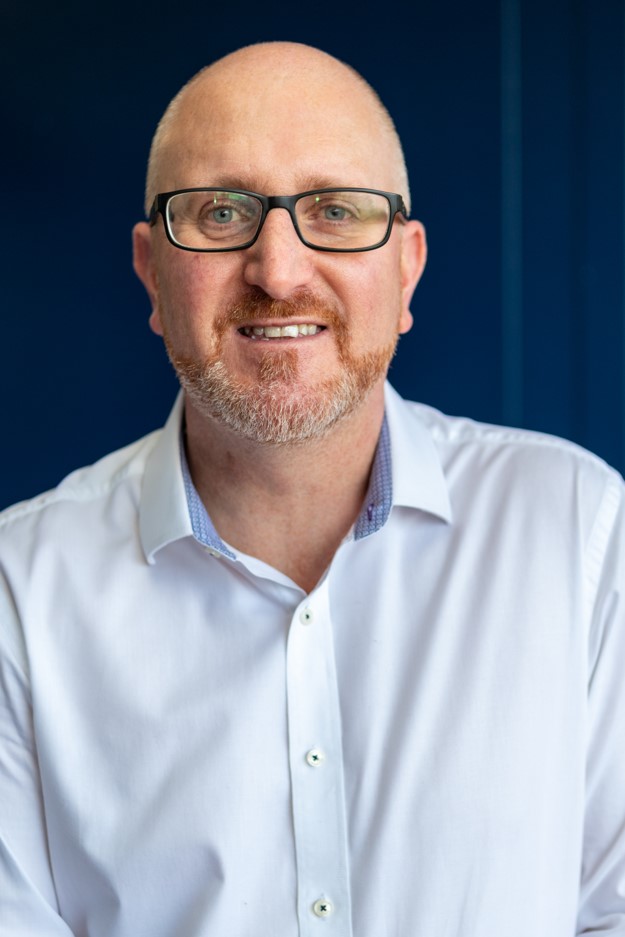 Justin Read – Sealy UK
Justin's professionalism and customer-centric approach has allowed him to build strong, lasting relationships that have been instrumental in securing customer loyalty during a period of disruption and challenging trading. Justin demonstrated outstanding sales performance over the last 12 months and is hugely respected by his customers and colleagues alike.
Jason Hiller – Shire Beds and Komfi
Knowledgeable, reliable, friendly. He understands both in-store retail and online sales strategies which is crucial in today's market. His excellent knowledge for all things beds and how he interacts with others make him truly outstanding.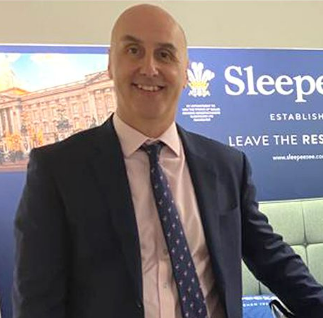 Robert Moore – Sleepeezee
A truly dedicated sales professional. Whichever company he has worked for, his number one goal has been to make that company the top selling brand in his customers' stores, achieving this through his hard work. Humble and respectful to all, going the extra mile to solve any problems.
Judges were Steve Adams, James Dunne and Becca Maloy.